Parque de Bombas Fire Station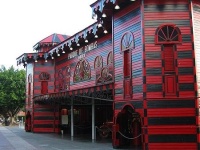 Parque de Bombas Fire Station © Jmoliver
A unique attraction on the central Plaza de las Delicias is the unusual Ponce fire station, a landmark wooden building painted in black and red stripes, with Gothic and Moorish architectural influences. The firehouse was built in 1882 and was tested to its limits just a year later when the city experienced a massive fire. Firemen from the Parque de Bombas station heroically battled the blaze. The station remained headquarters for the fire fighters for over 100 years until 1990, when it was turned into a museum open to the public.
Address: Plaza Las Delicias
Telephone: 787 284 3338
Opening times: Open daily 9:30am-6pm (closed on Tuesdays).