Sleeping Giant Provincial Park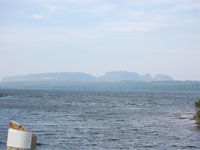 View of Sleeping Giant © Graham M Fawcett
Sleeping Giant Provincial Park is set on a rugged peninsula near Thunder Bay. Known as the 'park of legends', it was once home to the region's natives, who fished and hunted the rolling, forested terrain for some 9000 thousand years.
Today, hikers will enjoy the park's trails, which run to the tops of granite cliffs and open onto spectacular views of Lake Superior. Winter travellers can explore these on skis or snowshoes. The park also supports an exceptional mix of plant life, with two rare orchids, the Adder's Mouth and the Striped Orchid, growing in the southern end.
In fact, 24 types of orchid grow in the park, as do ferns. Wildlife includes more than 200 species of bird, white-tailed deer, red foxes, porcupines, moose, bears, wolves and lynx.
Address: Thunder Bay