Museo Castillo Serralles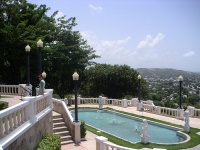 Castillo Serralles © Daquella manera
Perched above the city of Ponce on El Vigia Hill is the restored residence of the Serralles rum-producing family. The multi-level Spanish-revival hacienda, designed by Pedro de Castro and built in 1930, is a beautiful example of the island's post-World War I architecture. The house surrounds an elegant courtyard featuring fountains, and is renowned for its splendidly carved dining-room ceiling. The mansion is set in magnificent terraced formal gardens with breathtaking views, and makes for a wonderful day-trip destination from Ponce.
Address: 17 El Vigia
Telephone: 259 1774
Opening times: Open Tuesday to Sunday 9:30am-5:30pm
Admission: US$12.30 adults, US$4 children under 16. Concessions are available.