Tibes Indigenous Ceremonial Center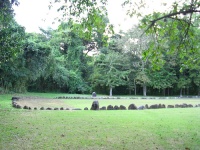 Tibes Indigenous Ceremonial Center © Jami Dwyer
This ancient Indian site, still being excavated, is one of the most important archaeological sites in the West Indies. Apart from an ancient cemetery, it also features the remains of seven courts used by the Igneri (pre-Taino) people for a football-like game, two dance grounds, and standing stones believed to have been used as an ancient astronomical observatory. A popular Puerto Rico tourist attraction, just two miles (3km) north of Ponce, the site has been equipped with a reconstructed Taino village, a museum, exhibition hall, café and souvenir shop. Visitors are taken on conducted tours.
Website: ponce.inter.edu/tibes/ingles/conozca.html
Telephone: 787 840 2255
Opening times: Tuesday to Sunday 9am-4pm.
Admission: US$2 adults