Culebra and Vieques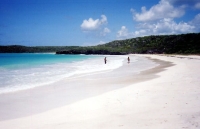 Corcho Beach in Vieques island © Joelr31
Dubbed the 'Enchanted Isles', Vieques and her smaller sister Culebra are found off Puerto Rico's east coast, accessible from San Juan by air and from Fajardo by ferry. The two islands' chilled and peaceful populations live lives that enrich rather than impact the islands' natural beauty.
Vieques consists largely of the biggest wildlife sanctuary in the Caribbean, containing beautiful beaches with azure clear waters and pearly white sand. Visitors to Vieques should stay overnight to experience its premier attraction: Bio Bay. On moonless nights, the bay glows with bioluminescence radiating from microscopic organisms called dinoflagellates.
Smaller Culebra is renowned for the clarity of its waves lapping at its shores, thanks to the island having no rivers or streams that may cause runoff. This quiet, unspoilt island offers unrivalled snorkelling and scuba diving in its magnificent encircling reefs, as well as kayak expeditions, hiking trails and bird-watching trips through the Culebra National Wildlife Refuge.