Basseterre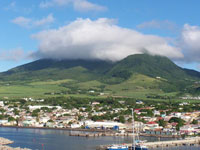 Bassaterre © J. Stephen Conn
The capital city of St Kitts and Nevis, Basseterre is one of the oldest towns in the Eastern Caribbean, founded in 1627. Basseterre retains a certain charm from its elegant days during British and French colonisation, although its British heritage is more evident than its French past. The town has a rather tragic history during the colonial-era, punctuated by battles, fires, earthquakes and hurricanes, all of which took some toll on the historic buildings; however, some well-preserved old buildings have survived. St George's Anglican Church, originally built by the French in 1670, was rebuilt in 1869 and remains a feature of the little city. 'The Circus', styled on London's Piccadilly Circus, a classic example of Georgian architecture that features a bright green Berkeley Memorial Clock, is also a landmark.
Streets lined with interesting shops and boutiques radiate out from the small roundabout in the centre of town. The domed Treasury Building, or customs house, located on the waterfront, stands testament to its heyday as a centre for sugar production, as does Independence Square, site of the original slave market that was built in 1790. It was renamed to commemorate the independence of the island nation from Great Britain in 1983.
Basseterre is located on the southwestern coast of St Kitts island, and is a port city and still one of the chief commercial depots of the Leeward Islands. Basseterre is the most common entry point to St Kitts and Nevis for travellers arriving by both air and sea.