Brimstone Hill Fortress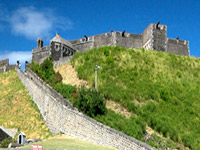 The immense Brimstone Hill Fortress, situated atop an 800-foot (244m) hill, was named the 'Gibraltar of the West Indies', and is protected by 49 guns and seven-foot (2m) thick walls. What started in 1690 took almost ten decades to complete, built largely by African slaves, and the scale and grandeur of the fortress is representative of the historic importance of St Kitts during the 17th and 18th centuries, and of the wealth that required such defence. Today, the indomitable military complex affords incredible views from its commanding position, and houses a small museum, screening a film recounting the history and restoration of the site, and offering tours of the officers' quarters, hospital and ammunition stores.
This UNESCO World Heritage Site is one of the prime tourist attractions of St Kitts and Nevis and a must-see for those interested in military history.
Address: Basseterre
Website: www.brimstonehillfortress.org