Blue Lagoon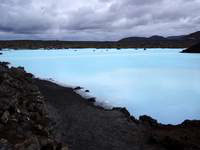 Blue Lagoon © Alicia Pettit
A favourite and unique attraction close to Reykjavik, about 30 miles (50km) southwest of the city, is the manmade geothermal Blue Lagoon. It is set in a lava field, filled with mineral-rich hot water pumped from about a mile below the surface. The lagoon is flanked by a luxurious health spa where visitors come to be pampered and treated for skin ailments like eczema and psoriasis. The lagoon's surreal phosphorescent aquamarine colour is caused by the therapeutic ecosystem of algae, silica, and minerals in the water. The Blueline bus company offers transport to and from the Blue Lagoon, and other transport options are outlined on the official website. Visitors should note that the Blue Lagoon is very popular and should be booked as far in advance as possible to avoid disappointment. The opening times change seasonally and can be found on the website listed below.
Address: 240 Grindavik, Iceland
Website: www.bluelagoon.com
Transport: Schedules buses are available from Reykjavik.
Opening times: Opening times are seasonal, but Blue Lagoon is generally open 8am to 9pm.
Admission: 6990 ISK for the Comfort package