Geysir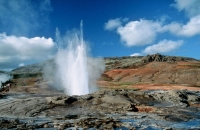 Geysir erupting! © Dieter Schweizer
The weird landscape of the Haukadalur Valley in the southern lowlands of Iceland has been dominated for centuries by the Great Geysir. It's from here that all other such phenomena around the world have gained their name. The geyser once shot boiling water hundreds of feet into the air, but the height of the eruption has reduced in modern times. Nevertheless, it's still an impressive sight. The rest of the thermal area, bathed in a sulphuric smell, is just as fascinating, featuring several other spouting vents and geysers which frequently display their prowess. The Great Geysir has become a very popular tourist attraction, and a centre has been opened containing a multimedia geology museum and folklore exhibits. There is also a hotel, souvenir shop, and restaurant on site.
Address: Geysir Center, Geysir
Website: www.geysircenter.com
Transport: Situated on the Golden Circle tour route, or drive yourself.
Admission: Free