Daintree Rainforest Discovery Centre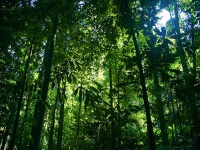 The Wet Tropics of Queensland is the oldest tropical rainforest still surviving on Earth and a World Heritage listed site containing the highest number of rare or threatened plant and animal species on the planet, as well as 13 different types of rainforest and 29 species of mangrove. Among the national parks included in the Wet Tropics are Barron Gorge National Park, Black Mountain National Park, Cedar Bay National Park, Daintree National Park, Girringun National Park and Wooroonooran National Park.
This unique area covers around 745 miles (1,200km) of northern Queensland, and is visited by thousands of tourists who access it usually from Cairns, via Daintree Village. Visitors enjoy an unrivalled natural experience, from the beautiful golden beaches to hiking through ancient forest ecosystems full of gorgeous birds, primitive flowering plants, and fascinating animals like the estuarine crocodile. Daintree is about two hours north of Cairns, on the Captain Cook Highway, making it easily accessible for excursions and weekend getaways.
Website: www.daintree-rec.com.au