St Joseph's Oratory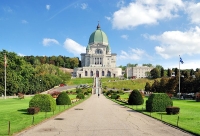 St Joseph's Oratory © Taxiarchos228
St Joseph's Oratory is a landmark in Montreal, its imposing dome on the northwest flank of Mont Royal visible for miles. This oratory is a famous pilgrimage site, despite only being completed in 1967, attracting over two million visitors and pilgrims each year.
It was founded by Brother Andre, a beloved monk who was known as the miracle-worker of Mont Royal because of his healing abilities. Work began on the basilica after his death in 1937. Its dome is the second largest in the world, being 318 feet (97m) high; it is second only to St Peter's in Rome.
The Oratory's carillon is made up of 56 bells that were originally cast for the Eiffel Tower in Paris; the Oratory acquired them in 1956. Visitors can climb the 283 steps from street level to the basilica's portico for beautiful vistas over the city.
Address: 3800 Queen Mary Road
Website: www.saint-joseph.org