Hurricane Katrina Tour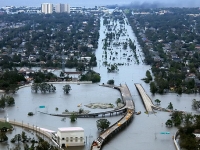 New Orleans flooding © Public Domain
Since Hurricane Katrina decimated New Orleans in August 2005, its people have been rebuilding. The beautiful, vibrant city has largely recovered but remnants of the tragedy remain. In many ways, the memory of the hurricane has become integral to the city's identity.
Gray Line Tours offers a three-hour bus ride around some of the hardest hit areas in New Orleans, including Lakeview and Gentilly, and is aimed at gathering support to continue the rebuilding of the city. To respect the privacy of the locals, buses will not allow tourists off the bus to take pictures.
Instead, they will pass around pictures of the storm and its destruction, and guides will describe the events before and after the storm hit the city, as well as explaining the significance of the levee system.
Address: Tours depart from Gray Line Lighthouse ticket office, Toulouse Street, French Quarter
Website: www.graylineneworleans.com/hurricane-katrina-tour.html
Telephone: (504) 569 1401
Opening times: Three-hour-long tours are conducted daily at 1pm.
Admission: $55 (adults), $31 (children).