Göteborg Botanical Garden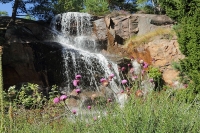 Gothenburg Botanical Garden, Sweden © C T Johansson
The Botanical Garden in Gothenburg is one of the largest in Europe and generally considered the most beautiful in Sweden, boasting about 13,000 different species of plant. The area covers 175 hectares (432 acres), most of which is a nature reserve including an arboretum. Inaugurated in 1923, on the city's 300th anniversary, the garden is one of the most popular tourist attractions in Gothenburg and indeed in Sweden.
Pride of the garden is the Rock Garden, but other worthwhile areas to visit include the Japanese Glade, the Rhododendron Valley and the greenhouses. The greenhouses display an impressive collection of about 1,500 orchids, among many other remarkable and rare plants, including extensive collections of Australian and South African flora. They host a series of exhibitions throughout the year - check the official website listed below to see what's showing during your visit. Well-maintained and extensive walking trails make the gardens a pleasure for hikers, and there are many beautiful nooks for picnics and relaxation. Kids will enjoy all the space! There is also a lovely cafe for refreshments.
Travellers should note that although the botanical garden is open all year, in the cold months there is not much to see outside of the greenhouses.
Address: Carl Skottsbergs Gata 22A
Website: www.gotbot.se