Liseberg Amusement Park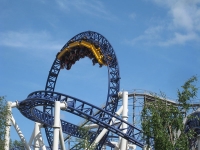 Liseberg Amusement Park, Gothenburg © Albin Olsson
One of the most popular tourist attractions in Sweden, Liseberg Amusement Park has been welcoming millions of visitors a year for almost 80 years. Besides popular rides like the wooden roller coaster Balder and tamer rides for the children, there are more than 30 different attractions, restaurants and entertainment venues where concerts and shows attract huge crowds. Apart from all the fun rides, Liseberg Amusement Park offers many diversions in the form of games, shops, and scenic or themed areas. Adults may enjoy strolling through the attractive garden area, with waterfalls and sculptures. There is a good range of restaurants and eateries in the park, with some fine dining options and plentiful fast food. Besides the ever-popular summer season, Liseberg is also open over the festive season for the biggest Christmas market in Scandinavia, as well as food specialities of the season, an ice bar, and holiday entertainment. This is a must for travellers in Gothenburg over Christmas, when many locals feel that Liseberg is at its most special. As opening times, dates, and prices all fluctuate according to season, visitors are advised to check the official website in advance to plan their trip.
Address: Örgrytevägen 5, Göteborg, Sweden.
E-mail: kontakt@liseberg.se
Website: http://liseberg.com/en/home/
Telephone: +46 31-400 100
Transport: Liseberg is easily reached by taking tram 13: Goteborg Sahlgrenska huvudentr, from central station.
Opening times: Opening times vary widely depending on the season and day of the week. For a detailed schedule go to http://liseberg.com/en/home/Amusement-Park/Opening-Hours/.
Admission: All-in-one passes (which include admission and free access to 38 rides/attractions) are SEK 485.