Alvsborg Fortress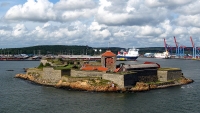 Elfsborg Fortress, Sweden © Tomasz Sienicki
The well-preserved, 17th-century Alvsborg Fortress is located on a small island at the entrance of the harbour, at the mouth of the Gota River near Gothenburg. With a fascinating history of battles against the Danes, the fortress was once the mightiest citadel in Sweden for coastal defence and is said to be the best preserved of its kind in the country. A boat trip to the fortress is one of the most popular activities for tourists in Gothenburg. Boat tours of the archipelago offer passage to the fort, along with views of the pretty waterways. There is also a good view of the harbour from the island and some walking trails around the fortress to explore independently. A dramatised tour in English or Swedish explaining the history of the castle is included in the admission fee. It tells the history of the region from the 1600s to the present, introducing visitors to the colourful characters of the past. There is a cafe and a small craft shop on the island for refreshments and souvenirs. It's also possible to bring your own picnic basket. The boat trip to the island takes about 30 minutes each way, and travellers should note that the boats only run seasonally.
Address: Byggnad 29.
Website: http://www.goteborg.com/en/nya-alvsborgs-fastning/
Transport: Boat tours depart daily to the fortress island from Lilla Bommen jetty between July and August, and weekends only in September. Boats sometimes also depart in May but it is recommended to confirm availability.