Göta Canal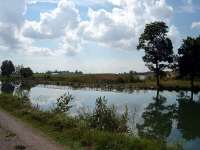 Gota Canal, Sweden © Gus
One of the most famous attractions in Sweden, the Göta Canal was an important transport route for passengers and goods between Gothenburg and Stockholm throughout the 19th century, until the building of railways and roads. The construction of the canal was also one of the biggest civil engineering projects to ever take place in the country. The canal stretches 118 miles (190km) from Sjötorp on Lake Vänern to the Baltic Sea at Mem and has 58 locks. Gothenburg is linked to the canal at Lake Vänern by the Göta River.
The picturesque, tree-lined channels are popular for cruises, which pass through the beautiful lakes of Vättern and Vänern, usually lasting about five to six days. Many boat trips are available on the canal, but they are almost always seasonal and often only operate in the summer months. A good option for travellers visiting in spring or autumn is a cycling trip along the banks of the canal. Canal trips are wildly popular with visitors and locals and provide a glorious way to traverse the pretty countryside, but couples should be warned that locals refer to the canal as the 'divorce ditch' due to the difficulty of traversing all the locks alone.
The official website listed below gives details on the different cruises, activities and accommodation options along the Göta Canal.
Website: http://www.gotakanal.se/en/