Gothenburg Archipelago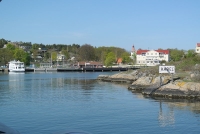 Gothenburg Archipelago, Sweden © Adbar
Boat trips to the southern and northern archipelago of Gothenburg are popular with both visitors and residents. The southern archipelago includes eight car-free, sparsely inhabited islands that boast sandy beaches, good swimming, beautiful nature, walking paths, and a charm of their own. The southern islands frequently feature in Viking mythology, adding to their wild mystique.
The island of Brännö is thought to be the location for the famous Anglo-Saxon poem Beowulf. Vargö is a nature reserve and a great spot for bird watchers. Köpstadsö is a small island with picturesque, narrow walking trails. Styrsö is more developed and boasts some accommodation for holidaymakers, having been a kind of bathers' resort since the 1830s. The northern archipelago is more heavily populated and offers numerous hotels, restaurants, and sea-based activities.
Although the islands can be explored independently by those who hire boats, and some travellers choose to spend some time staying in the archipelago, most tourists simply join the general boat tours of the archipelago, which take roughly four hours and show passengers the beauty of the River Göta, River Nordre, Björkö Fjord and Göteborg's harbour as well as some of the islands.