Key West Lighthouse Museum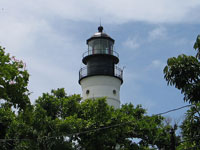 The landmark beacon of the Key West Lighthouse was built in 1847 to warn ships of the hazardous reefs lying off the lower Keys, and, having been taken out of commission in 1969, is now a popular tourist attraction. Visitors can climb the 86-foot (26m) high tower to marvel at the spectacular view. The clapboard bungalow that was the keeper's quarters has been restored and maintained as a museum, providing a glimpse of life in Key West in the 19th century.
Address: 938 Whitehead Street, Key West
Telephone: (305) 295 6616 Ext. 16 for information
Opening times: Daily 9:30am-4:30pm. Closed Christmas Day.
Admission: $10 (adults), $5 (children); Free for children under six years of age.