Pigeon Key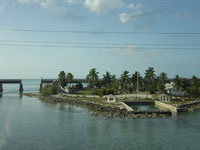 Tiny Pigeon Key is an island west of Marathon on the Overseas Highway, which originally served as a construction camp for the original railroad built through the Keys. It is now listed on the National Register of Historic Places and operated by the non-profit Pigeon Key Foundation as an historic preserve. Visitors can explore a railroad museum featuring artefacts and photographs about the original Flagler railroad and building of the old Seven Mile Bridge. Some of the cottages have been restored.
Address: Marathon
Website: www.fla-keys.com/marathon/pigeon.cfm
Telephone: (305) 289 0025
Transport: A shuttle service runs from the Pigeon Key Visitor Center on Knight's Key, at mile marker 47.
Admission: $11 (adults), $8.50 (students 14 and under), Free for children under four.