Crane Point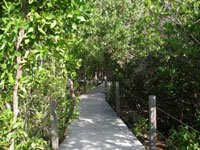 In the downtown area of Marathon is a tropical oasis of nature trails and educational displays set among hardwood trees on a piece of land that was originally occupied by a Bahamian immigrant family in the early 20th century. Known as Crane Point Hammock, the Adderley's made a sparse and simple life here by selling sponges gathered from the sea and making charcoal. Their home has been restored and the grounds laid out with several miles of walking trails and wooden walkways through the botanic wonderland. One trail takes in the Marathon Wild Bird Center where injured Keys' birds are rehabilitated. There is also a natural history museum on site, dedicated to sea turtles, and a children's museum. Visitors can also witness fish feedings at a tropical saltwater lagoon, and an iguana enclosure.
Address: 5550 Overseas Highway, Marathon
E-mail: info@cranepoint.net
Website: www.cranepoint.net
Telephone: (305) 743 9100
Opening times: Monday to Saturday 9am-5pm, Sunday 12pm-5pm.
Admission: Adults $12.50; Children (5-13) $8.50; Other concessions available