Granville Island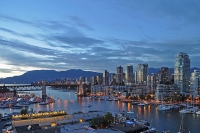 False Creek © Harshil Shah
What was once a run-down industrial area in Vancouver is now a thriving entertainment and shopping hub, with a vibrant market central to the island's activities. It is accompanied by the Emily Carr Institute of Art and Design, a theatre, and a brewery.
The island is easily accessible, located in the middle of Vancouver under the Granville Street Bridge on the south shore of False Creek and linked by a road to the city. While it barely seems like a separate place, it's nonetheless a relaxing break from the city.
The public market is a riot of colours, smells, local produce, fresh meats and fish, flowers, tasty treats, crafts, clothing, and souvenirs are all on offer. The separate Kids Market is a must for children, with toy stores, games, and more, while the Maritime Market is a showcase for boat-builders, with a museum, supply stores, and tours.
Visits to the Granville Island Brewing Company and taste-tests of their brews are possible. For something more cultural, one can catch a show at the Island's theatre or enjoy a student art show at the Emily Carr Institute. The island has the biggest free waterpark in British Columbia, open May to September.
Perhaps the best way to enjoy the island, however, is to grab something to eat from one of the many stalls, choose a table outside and simply watch the people go by. Or one can take a self-guided tour, being sure not to miss the picturesque houseboats.
Website: www.granvilleisland.com
Transport: Granville Island is accessible by car, bus, on foot, or by Aquabus or ferry. The #50 False Creek bus travels from Gastown in the downtown area, along Granville Street, stopping just off the island