Lonsdale Quay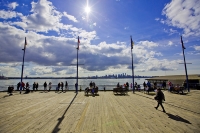 Lonsdale Quay © GoToVan
Situated in North Vancouver, Lonsdale Quay offers spectacular views of downtown Vancouver, its harbour, and the North Shore Mountains. There are also a variety of shops, restaurants, and an excellent public market.
The best way to experience the quay is to catch the SeaBus from Waterfront Station on Cordova Street in downtown Vancouver, a fifteen-minute ride that allows one to relax and enjoy the view, watch seaplanes land and see what cruise ships are in the harbour, before embarking on some retail therapy.
The market, though slightly smaller than that of Granville Island, boasts mouth-watering fresh goods, from seafood to fresh fruit and vegetables, pastries and sweets, and there is a wide range of restaurants available, including Mexican, Greek, Japanese, Indian, and more.
There are also a variety of stalls selling all sorts of arts and crafts, souvenirs, and clothing, and the retail level boasts plenty of boutiques, a kids play area and specialty kids stores, topped by the Lonsdale Quay Hotel. A climb up the quay's signature red tower with its large Q on top is a good way to work off all the delicious food and to enjoy spectacular views of the city and mountains.
Address: 123 Carrie Cates Court, North Vancouver
Website: www.lonsdalequay.com
Transport: SeaBus from Waterfront Station; also accessible by bus
Opening times: Market and retail: Open daily, from 9am to 7pm. Restaurants are open later.
Admission: Free