Queen Elizabeth Park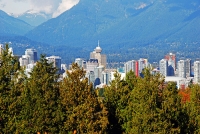 Queen Elizabeth Park © WriterGal39
Transformed from an ugly stone quarry in the 1950s, the exquisite Queen Elizabeth Park in Vancouver now boasts lush gardens bursting with flowers, live theatre, the Bloedel Floral Conservatory, a restaurant, a Pitch and Putt course, and much more.
The park receives about six million visitors annually who come to enjoy a 360 degree view of Vancouver from its highest point, 505 feet (167m) above sea level. The Bloedel Floral Conservatory, with its characteristic geodesic dome, is home to more than 100 species of tropical birds that roam free in the area, as well as hundreds of species of exotic plants and flowers.
Other highlights of the park include the Quarry Garden, J. Seward Johnson's sculpture 'The Photo Session', the Lions Clock, and the arboretum, with its fine examples of indigenous trees from across Canada. Spring is an excellent time to visit the park as it becomes a riot of colour, with white and pink cherry blossoms and all sorts of flowers displaying their finest.
Address: 4600 Cambie St
Website: www.vancouver.ca/parks-recreation-culture/queen-elizabeth-park.aspx
Transport: Bus to Main Street at 33rd Avenue
Opening times: Open daily 9am to 5pm. Conservatory open daily, from 10am to 5pm
Admission: Admission to the park itself is free, but some attractions within the park have admission fees.