Vancouver Lookout at the Harbour Centre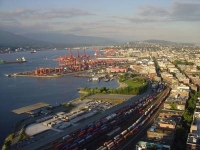 Vancouver Lookout at the Harbour Centre © Brian Chow
Perhaps one of the best ways to begin one's visit to Vancouver is with a trip up the Harbour Centre Tower to the Lookout, where one can enjoy a 360 degree view of the city, Greater Vancouver, the North Shore Mountains, and even neighbouring Vancouver Island on a clear day.
A 45-second trip in the outdoor glass-fronted Skylift elevator delivers visitors to the Lookout and informative signs point out key attractions in the city and surrounds. As tickets are valid for the entire day and evening, visitors can also enjoy a cup of coffee while watching the sunset from the Lookout or see the lights of the city begin to twinkle below.
The tower is also home to The Top of Vancouver Revolving Restaurant, and visitors can enjoy the unique experience of dining above the city while the restaurant completes a full revolution every hour. The Skylift to the restaurant is free. The Harbour Centre itself is home to part of the Simon Fraser University campus, several shops, and a food court.
Address: 555 West Hastings Street
Website: www.vancouverlookout.com
Telephone: (604) 689 0421
Transport: Skytrain to Waterfront Station; SeaBus from North Shore to Waterfront Station
Opening times: Open daily, from 8:30am to 10:30pm (May to September); 9am to 9pm Monday to Thursday, and 9am to 9:30pm Friday to Sunday (October to April).
Admission: C$17.50 (adults), C$9.50 (children aged 6 - 12). Concessions available.