VanDusen Botanical Garden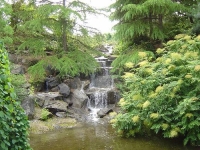 VanDusen Botanical Garden © Brian Chow
With 22 hectares (55 acres) and roughly 11,000 different plant species, VanDusen Botanical Garden is a spectacular showcase of the natural world, right in the heart of Vancouver. Landscaped gardens are laid out exquisitely and specific areas are cultivated to demonstrate botanical relationships or geographical origins, such as the popular Rhododendron Walk or the Sino Himalayan Garden.
One of the most popular events held in the garden is the annual Festival of Lights, when the beauty of the flowers is matched by over a million dazzling lights set up in order to celebrate the festive season. Choirs and carol singers, visits with Santa, a Dancing Light display on Lake Island in the park, the Golden Chain Walk, magicians, and tasty treats are all part of this family favourite, running from 9-31 December each year. Daily walking and cart tours are available in the garden from April to October at 2pm and also at 11am on Wednesdays.
Address: 5251 Oak Street (37th Avenue and Oak)
Website: www.vandusengarden.org
Telephone: (604) 257 8335
Transport: #17 Oak bus from downtown Vancouver to West 37th Avenue
Opening times: Opening times vary according to season, with slightly different hours every month - check the official website for details.
Admission: October to March C$8.25 (adults), C$4.25 (children aged 3 - 12); April to September C$11.25 (adults), C$5.50 (children aged 3 - 12). Concessions available.