Gediminas Castle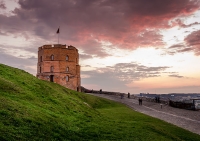 Gediminas' Tower © Mantas Volungevicius
Standing guard over the city of Vilnius since the 13th century, the landmark Gediminas Castle was built by the founder of the city and has served as defence bastion, prison, and now major tourist attraction.
Originally, the castle was made of wood, later clad in 10-foot (3m) thick stone walls, and then all but destroyed by Russian troops in the 17th century. Now completely and carefully restored to its former glory, the top of the majestic octagonal tower provides a breath-taking view of the old city.
It is the highest point in the Vilnius Old Town, which itself is a UNESCO-listed site. The castle also contains a museum depicting the history of Lithuania and Vilnius, with exhibits including models of the city at various points in history as well as archaeological finds from the region.
The castle is also an emotional landmark for those who remember the Baltic Chain, or Chain of Freedom, a peaceful political movement which united the three Balkan states in their fight for independence back in 1989 when Lithuania, Estonia and Latvia were republics of the Soviet Union.
The Baltic Chain was a demonstration in which more than two million people joined hands in August 1989 to create a human chain spanning the three Baltic countries to demonstrate their solidarity and their desire for freedom. The chain, a memorable and impactful moment in European history, ended at Gediminas Castle in Lithuania.