Vilnius Cathedral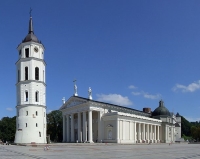 View of St John's Cathedral © Briangotts
The resplendent Vilnius Cathedral, which stands proudly on the central square of the Old City, has a chequered history that left it decaying and abandoned through the Soviet era. The Cathedral now resembles a classical Greek temple more than it does a Christian church.
It's now once again the pride of the city, filled with incredible artworks, traditional icons and history. The cathedral, originally built in the 13th-century, stands on the site of an ancient pagan temple. Rebuilt several times in the succeeding centuries after fires and storm damage, Vilnius Cathedral is an unusual and architecturally impactful cathedral, containing more than 40 paintings and frescoes.
There are a number of chapels which are interesting in their own right, located around the premises. Most noteworthy is the Casimir Chapel, first constructed in 1623, containing eight silver-plated statues and décor wrought by artist Constantino Tencallo. No matter what their religion, visitors tend to find the cathedral impressive and the grounds peaceful and attractive.
Vilnius has some amazing churches and other special attractions in the city include the St Peter and St Paul Church, which houses numerous sculptures, and St Anne's Church, a beautiful Gothic building.
Website: www.katedra.lt