European Park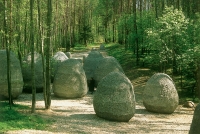 Europos Parkas © Legionas
A few miles north of Vilnius town centre, Lithuanian sculptor Gintaras Karosas founded the Europos Parkas (European Park) on a 55-hectare site that encompasses the geographic centre of Europe, as determined by the French National Geographic Institute in 1989.
The Park attracts hundreds of thousands of visitors each year, who come to stand in the centre of the continent and admire a permanent outdoor sculpture exhibition, set amid rolling hills, woods and fields dotted with natural springs.
About 100 works by artists from dozens of different countries are on display. Guided tours are available, and the site includes a small restaurant, shop and post office. European Park is also a really lovely place to enjoy a walk in the natural surroundings and have a picnic.
Autumn is particularly beautiful because of the striking colour of the trees and vegetation but it still remains gorgeous through spring and summer too. In winter, it's perhaps a bit cold but an invigorating stroll through the snowy landscape can be fun, as gates are open all year round.
If you are travelling in Lithuania with children, then Europos Parkas is the ideal family excursion from Vilnius. It's a good opportunity to enjoy some fresh air and let the kids get rid of some energy. Lovers of contemporary art will also enjoy the park, where the sculptures are well integrated into the natural scenery.
Website: www.europosparkas.lt