Jewish Memorials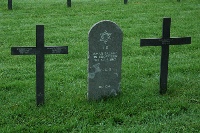 Jewish memorial © luvmycrows
In the early 20th century, about half of the population of Vilnius were Yiddish-speaking Jews and the city was dubbed the 'Jerusalem of the North'. The Nazis in World War II effectively obliterated this community, encircling the Jewish quarter in barbed wire.
They marched the 60,000 or so residents into the Paneriai Forest and executed them. Sadly, some sources estimate that the number of Jews killed in Vilnius was far higher. Today, the Genocide Museum has been established at the killing field in memory of the victims of this horror.
There is also a Jewish Museum depicting pre-war Jewish life and visitors are welcome at the only remaining Vilnius Synagogue. The Jews were once numerous in Lithuania, with efforts now underway to rebuild and restore many aspects of the former Jewish Quarter.
Incredibly, some say that Vilnius once housed more than a hundred synagogues, not to mention schools, libraries and other cultural institutions. Tours of Jewish Vilnius incorporate these sombre but extremely worthwhile historical and cultural attractions.
Several private operators offer these tours which should captivate any visitors with an interest in Jewish culture or European history. However, young children may not be prepared for the realities of these tragic sites.
Website: www.jmuseum.lt