Museum of Genocide Victims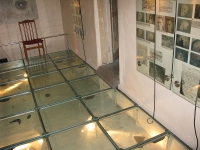 Museum of Genocide Victims © Kristian Frisk
The dark days of the Soviet occupation of Lithuania are preserved in this disturbing collection, which is contained in the former KGB headquarters building; a building which is a symbol of hardship for the Lithuanian population old enough to remember the realities of the occupation.
Those who drew the antagonism of the authorities were detained, tortured and often executed in this building. The Museum of Genocide (Genocido Auku Muziejus) is also often called the KGB Museum and the building remains almost exactly the same as it was during Soviet occupation.
Some of the museum's exhibitions include the 'Eavesdropping Room', highlighting the use of secret surveillance by the KGB, and 'Life Goes On', a look at the day to day living of Lithuanian deportees and prisoners.
There is also the haunting experience of the prison in the basement. Audio guides are available for a small cost and they bring the place vividly to life. Guided tours of the museum are also available in English.
The Genocide Museum is one of the top-rated tourist attractions in Vilnius and the collection is informative, well-organised and haunting. Visitors should note that some of the material is rather macabre and may not be suitable for young children.
Website: www.genocid.lt/muziejus