British Columbia Parliament Buildings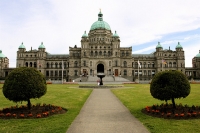 Parliament Buildings © Christophe.Finot
Built in 1893, the British Columbia Government Parliament Buildings were initially criticised as an unnecessary expense, but now constitute a major tourist attraction in Victoria, as well as serving as the legislative centre for the province.
Designed by 25-year-old architect Francis Rattenbury (who also designed The Fairmont Empress Hotel), these beautiful buildings and exquisite grounds are situated at Victoria's Inner Harbour, close to many of Victoria's other main attractions.
Various performances routinely take place in the grounds and visitors can enjoy the spectacular sight of the buildings at night, when more than 3,000 lights outlining the buildings create a fairytale picture. Tours of the buildings are available daily at regular intervals throughout the year and visitors can observe the House in session from the public galleries.
Address: 501 Belleville Street, Victoria
Website: www.leg.bc.ca
Telephone: (250) 387 5532
Opening times: Daily 9am-5pm