Flamenco at Corral de la Moreria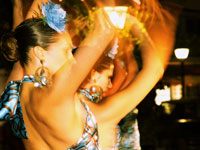 Flamenco dancers © Ana Filipa Machado
Listed as one of Madrid's top ten sights, the tablao flamenco (flamenco show restaurant) is renowned as the oldest and most famous flamenco show in the world. The multi-award winning establishment draws kings and queens, international presidents, film stars, and well-known artists and writers. They all come to witness the nightly performances of top flamenco stars, receiving excellent service and dining on exquisite meals prepared by some of the best chefs in Madrid. The Corral de la Moreria was opened in 1956 and is widely lauded as the best flamenco venue in the world. It has hosted some of the finest professionals of the flamenco discipline, as well as world-class singers and musicians. Shows last for about an hour and 15 minutes and feature about 10 artists. Prices vary slightly depending on the time and day. The restaurant is also superb, serving up some exciting interpretations of traditional Spanish and international fare, but visitors should note that food is not included in ticket prices. Check who is performing and buy tickets online via the official website listed below. You can find the venue right in the centre of Madrid, next to the Royal Palace.
Address: 17 Calle Moreria
E-mail: info@corraldelamoreria.com
Website: www.corraldelamoreria.com
Telephone: +34 91 365 8446 and +34 91 365 1137
Transport: EMT 3 or 148, Metro to Opera or Sol stops
Opening times: Open daily 6pm-11pm
Admission: €47.95 to €49.75 per show, depending on dinner and drinks.