Iguazu National Park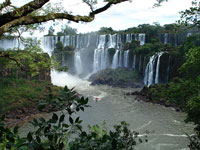 Iguazu Falls Argentina © ricardo.martins
The Iguazú National Park is a huge subtropical rainforest covering 135,000 acres and is home to thousands of different species of flora and birds, including colourful parrots and hummingbirds. It is most famous for the Iguazú Falls, declared a National Heritage Site by UNESCO. The deep flowing waters of the river tumble down 275 falls, the most famous of which is Devil's Throat. On the border with Brazil, it drops 230ft (70m), almost twice the height of Niagara Falls. As well as enjoying the stunning views from the series of platforms, visitors can enjoy kayaking and other watersports on the river.
The Iguazú Falls were one of the locations used for the 1986 film The Mission and, appropriately, Jesuit Mission ruins remain nearby. Iguazú is home to the Guarani people, who offer their handmade crafts for sale inside the park. Some activities available to visitors include a ride on the Ecological Jungle Train, a meal at La Selva Restaurant, a trek along the Green Trail, a walk along the Upper Circuit (the very top of the falls), a walk along the Lower Circuit (the bottom of the falls), a trip to the San Martin Island in the heart of the falls, a jungle trek along the Macuco Trail, and a walk on a night lit by a full moon, accompanied by national park guides.
Website: www.iguazuargentina.com
Opening times: Daily 8am-6pm.
Admission: ARS170 adults, ARS115 children 6-12 years; other concessions available.