Kinsale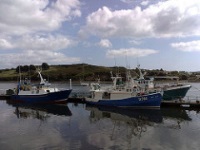 Kinsale © Stephen Carter
Kinsale is an old fishing village just 18 miles (29km) south of Cork. It's best known for the world renowned Old Head Golf Links, set on a narrow head jutting out into the Celtic Sea. Kinsale has a number of sights of interest including The Courthouse and Desmond Castle.
Desmond Castle was built as a custom house by the Earl of Desmond in the 16th century. It has a colourful history, ranging from Spanish occupation during the Battle of Kinsalein in 1601, to its use as a prison for captured American sailors during the American War of Independence. It is known locally as 'The French Prison' after a tragic fire in which 54 prisoners, mainly French seamen, died in 1747. The castle was also used as a borough jail from 1791 to the onset of the Great Famine when it was used as an auxiliary workhouse tending to the starving populace.
Two miles (3km) outside Kinsale is Charles Fort, constructed in the late 17th century on the site of an earlier coastal fortification. It is a classic example of a star-shaped fort. William Robinson, architect of the Royal Hospital in Kilmainham, Dublin, and Superintendent of Fortifications, is credited with its design. As one of the largest military forts in the country, Charles Fort has been associated with some of the most momentous events in Irish history, the most significant of which include the Williamite War in 1690 and the Irish Civil War in 1922-1923.
Across the estuary is James Fort, an earlier structure, which was designed by Paul Ive in 1602. Kinsale has also earned itself the reputation as the gourmet centre for Ireland with numerous award-winning pubs and restaurants, and the annual Gourmet Festival in October. It is a beautiful little village and a very popular destination in Ireland.
Website: www.kinsale.ie
Telephone: Kinsale Tourist Office: +353 21 477 2234
Transport: Bus Éireann number 226 from Cork City. It's a 45 minute trip, but the bus offers free wifi.