Cliffs of Moher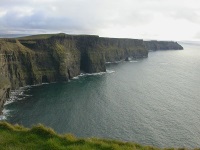 Cliffs of Moher © Tobias Helfrich
The steep and wondrous Cliffs of Moher, overlooking the Atlantic Ocean in County Clare, are one of Ireland's top visitor sights. The majestic cliffs rise from the ocean to a height of 702ft (214m) and extend for a distance of five miles (8km). Formed by layers of sandstone, shale and siltstone, the cliffs have stood unchanged for millions of years. Visitors come to marvel at their splendour, and to enjoy views towards the Aran Islands in Galway Bay, as well as the valleys and hills of Connemara. If at all possible, visit the cliffs on a clear day so that you can fully appreciate the views and natural beauty; if you go on a misty or rainy day you often can't even see the ocean far below you and the wind on the cliff-tops can be terrifyingly strong. However, Irish weather being what it is, try not to miss out on this amazing attraction come rain or shine.
The award-winning visitor centre offers an ultra-modern interpretive centre, Atlantic Edge, which includes interactive exhibits and displays, images, an audio visual show, and a virtual reality cliff face adventure. You can quite easily approach the cliffs without visiting the centre but learning a bit about the place enriches the experience.
E-mail: info@cliffsofmoher.ie
Website: www.cliffsofmoher.ie
Telephone: +353 65 708 6141
Transport: Direct buses are available from Galway Bus station to the Cliffs of Moher between three and five times a day.
Opening times: Open 9am year-round. Closing times are as follows: November to February 5pm; March and October 6pm (6.30pm on weekends and bank holidays); April 6.30pm (7pm Weekends & Bank Holidays); May and September 7pm (7.30pm on weekends and bank holidays); June 7.30pm (8pm on weekends and bank holidays); July to August 9pm.
Admission: €6 adults, €4 students/seniors/disabled, children under 16 free.