Old City Gaol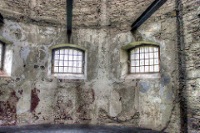 Cork City Gaol Interior © psyberartist
The old Cork City Gaol looks the same as it did in Victorian times with its barred windows, cells, bare corridors and iron stairways behind the unwelcoming gateway. The gaol once incarcerated 19th century prisoners and the old building is massive and castle-like, a very fine example of imposing Gothic architecture; it was built in 1824 and is considered one of the finest examples of Georgian architecture surviving in Cork. One explores the place on a self-guided tour with an audio guide: life-size figures, sounds and exhibitions tell the story and social history of 19th century Cork and the reasons people turned to crime, which was mainly due to extreme poverty. You can still see the graffiti that prisoners carved or wrote on the walls and there are many interesting facts and stories to be heard. Unsurprisingly, the Cork City Gaol is said to be haunted, which is very easy to believe when you are strolling through the formidable building. The tour is available in 13 languages and it really does transport you into another century. Children will enjoy this attraction and it is a good activity for the whole family - although it is popular, it never seems too crowded, which adds to the eerie atmosphere.
Address: Convent Avenue, Sunday's Well
E-mail: corkgaol@indigo.ie
Website: www.corkcitygaol.com
Telephone: (0)21 430 5022
Opening times: Daily 9:30am-5pm (March to October), 10am-4pm (November to February).
Admission: €8 adults, concessions available.