Capri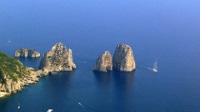 Capri © Steve Deeves
Capri's beauty captured the imagination of the Roman Emperor Augustus in 29 BC, and continues to draw admiring crowds to its picturesque banks. Ferries and hydrofoils transport travellers from Sorrento, Positano, Amalfi and Naples to its embarkation point at Marina Grande. From here, a funicular runs to the town's Piazza Umberto. The island's main attraction is the Blue Grotto. This sea-cave is illuminated a fantastic neon blue, caused by the interplay of light and water. The ruins of Villa Tiberio can be explored following a 45-minute trek up the nearby hill. Legend has it that Tiberius tossed those unfortunate enough to anger him off the precipice; though, luckily, walking down is an option nowadays. On the descent along the path one can take a short detour to the Arco Naturale. This weathered stone arch on the island's eastern cliffs provides the perfect perspective from which to contemplate the vista that stretches to Paestum. Another interesting villa to explore is the Villa San Michele (in Anacapri), the magnum opus of Swedish author and physician Axel Munthe. Henry James described it as 'the most fantastic beauty, poetry, and inutility that I have ever seen clustered together.' Also in Anacapri, take the 12-minute chairlift to the summit of Monte Solaro to experience the breathtaking views stretching to the distant Apennines and Calabria mountains.
Website: www.capritourism.com
Transport: Ferries and hydrofoils depart from the port of Mergellina or Molo Beverello; Molo Beverello has more frequent departures.