Castro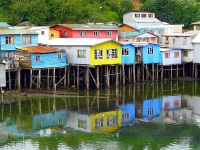 Castro © Christian Cordova
Castro is the main town (technically a city) on Chiloé Island and the third oldest city in Chile, founded in 1567. It's famous for its colourful rows of palafitos (stilted houses) lining the estuaries, excellent seafood and traditional handicrafts. With an eclectic blend of Chilote culture and modern development, Castro is a popular summer destination for both Chilean and Argentinian tourists and has a laid-back feel to it.
One of the town's most interesting features is the San Francisco Church, painted in dazzling pastel colours, but it contains a number of other interesting attractions, including craft markets, the regional museum and the MAM Gallery. Castro also has a range of restaurants and shops, and a few bars to keep the fun going into the night. The central town square, Plaza de Armas, is the heart of Castro, where visitors will find a number of great eateries, as well as a prime people-watching position.
Cycling around the island is another popular activity and a good way to see the sights. The town is also a short hop away from the nearby islands of the Chiloé archipelago and the Parque Nacional Chiloé, which make for wonderful excursions.