Fortuna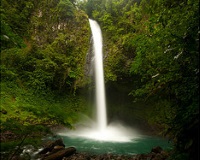 La Fortuna © Shubhika Bharathwaj
Fortuna is the nearest village to the spectacular Volcán Arenal. While the volcano is the main reason for visiting the area, there is a lot more on offer. The town has uninterrupted views of the volcano and provides a comfortable but touristy base for visiting the national park and other attractions in the area.
There are many tour operators in town offering night trips to see the red-hot volcanic activity from up close. Other tours combine luxurious soak in the hot springs while taking in the astounding show of bright red larva coursing down the slopes. You don't need a guide to enter the park and hike in the area but you must have a guide to visit at night. Trips to the Caño Negro Wildlife Refuge, and the Arenal Butterfly Conservatory, are also popular excursions, as is horse riding to the nearby waterfalls (take swim suits for the lovely pools!).
Close to Fortuna is Lake Arenal, a picturesque lake offering watersports, fishing and stunning scenery. There are also some rivers close by: the Pena Blancas River is great for relaxing river cruises, and, for the more adventurous, the Rio Toro river boasts some impressive white water rafting through deep gorges and big rapids (class 3 - 4).