Monteverde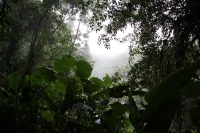 Monteverde Cloud Forest Reserve © Velorian at wts wikivoyage
Monteverde is a small community scattered along several kilometres of road that leads to the Monteverde Cloud Forest Biological Reserve. It was founded by North American Quakers in 1951, having bought over 1,000 hectares (2,471 acres) of land for their dairy farming. Today they are an integral part of the Costa Rican society and are known especially for their distinctive cheese that is sold throughout the country.
In 1972 about 2,000 hectares (4,942 acres) were added to their land, which became the famous cloud forest reserve that has become so popular among visitors today. The village of Santa Elena is the closest settlement to the reserve and has a cloud forest reserve of its own, although much less visited.
Monteverde has a number of other attractions, such as the Butterfly Garden, the Serpentarium, a cheese factory and a number of art galleries. CASEM Handicrafts Cooperative, made up of 140 local artisans, sells handmade goods and the profits go towards supporting the local community. There is also the Hummingbird Gallery near the entrance to the reserve that has feeders attracting several species of hummingbird, providing some excellent photo opportunities.
Several nature and hiking trails allow visitors to amble through coffee and banana plantations or up onto the hilltops for views of the cloud forest. On a clear day, you might get a chance to spy Arenal Volcano, and lots of birds and wildlife.