Puerto Viejo de Talamanca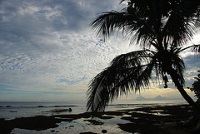 Puerto Viejo © Jean-Marie Prival
Puerto Viejo de Talamanca, known to locals as Puerto Viejo (not to be confused with Puerto Viejo de Sarapiquí in the northern lowlands), is a dusty little village lying between the forested mountains of Talamanca and the sea. The little town offers excellent surfing, an interesting mix of Afro-Caribbean and Bribri indigenous cultures, and delicious local food.
The seven miles (12km) of coastline between Puerto Viejo and Manzanillo further east is one of the most stunning stretches in Costa Rica, featuring popular beaches such as Playa Cocles, Playa Chiquita and Punta Uva. There are many other activities in the area including fishing and horse riding, cultural tours and home stays, as well as excursions to the nearby Cahuita National Park. Puerto Viejo has a vibrant nightlife and great local music, meaning it's a good base for those who enjoy a party.
Puerto Viejo de Talamanca is becoming increasingly touristy due to its popularity so if you prefer to avoid tourist hotspots, Puerto Viejo may not be the right place for your holiday. But if you are a sociable, sun-worshipping, music-loving adventurer, you will be in heaven, since all will agree that the beaches are sublime. In fact, there are so many exciting excursions out into the surrounding areas that there should be something for everybody.