Cuenca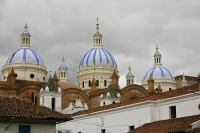 Cuenca, Ecuador © Alex Proimos
The Spanish founded the charming city of Cuenca in 1557. Despite being Ecuador's third largest city, it is quaint and pretty, and a favourite for photographers, with its cobblestone streets and 16th-Century buildings in the old centre.
It is a good idea to spend a few days relaxing in this special city, where colourful Ecuadorian culture meets old-world colonial style. There are a number of museums and churches to see, as well as bustling plazas and markets that can be visited during a leisurely ramble of the city.
Nearby are only major Inca ruins in Ecuador: the fortress of Ingapirca, a popular excursion. The ruined fortress can be found in the town of the same name, situated a two-hour drive from Cuenca.