Madaba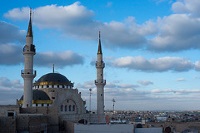 Madaba © Wojtek Ogrodowczyk
The Medeba of the Bible is today Madaba, 'the City of Mosaics', most famous for its spectacular Byzantine and Umayyad mosaics from the 5th to 7th centuries, which are scattered throughout the town's homes and churches. Located just 19 miles (30km) south of Amman, Madaba is also home to the famous 6th-century mosaic map of the Holy Land, in which Jerusalem and its surrounding regions are depicted.
One of the town's most beautiful mosaics covers the floor of the Byzantine Church of the Apostles, and the Archaeological Park features an impressive collection of mosaic collages, where a series of ramps has been built over excavated mosaics to allow people to view them from above. The Greek Orthodox Church of St George is home to Madaba's main attraction and most famous mosaic, the celebrated 6th-century mosaic map of the Holy Land.
Millions of pieces of coloured stone embedded on the church floor create a vivid picture of Jerusalem and its holy sites, including the Church of the Holy Sepulchre, the Dead Sea, Jericho and the Jordan River. It is the earliest surviving original map of the region and was laid around 560 AD. Madaba is also known for its hand-woven carpets and tapestries and it is possible to see them being made in several shops around town.