Bayeaux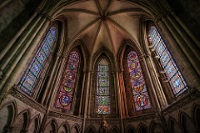 Notre-Dame de Bayeux © archangel12
This ancient Viking settlement is situated a few miles inland, between La Havre and Cherbourg, and was the first French town to be liberated in 1944 during World War II. Fortunately Bayeux was spared from too much war damage, and remains full of old-world character with wooden houses, some elegant stone buildings and cobblestone roads. Many visitors flock here to explore the sites associated with the war's 'Longest Day', including an interesting D-Day museum and the famous landing beaches (less than 10 miles/16km away).
A museum celebrating an older, but equally historic battle is also located in the vicinity: the Musée de la Tapisserie de Bayeux contains the famous tapestry that tells the story of the Battle of Hastings. The 231-foot (69m) strip of embroidered linen depicts scenes of Harold's coronation as the Saxon king of England, him being told of the apparition of a comet (a portent of misfortune), William dressing for war, and Harold's death.
Also worth seeing in Bayeux is the Notre-Dame de Bayeux, a fine Norman Romanesque cathedral, rich in sculpture.