Freiburg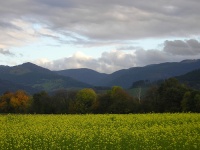 Freiburg © David G...
Black Forest cake and cuckoo clocks are what most visitors travel to Freiburg for, but the beautiful city has far more to offer than the expected. The recommended way to explore the town and environs is by bicycle (there are plenty for hire) along more than 93 miles (150km) of bicycle paths. Visitors will find is a wealth of ancient history, some delicious food and wine, and breathtaking natural beauty. The city (really a large town) is known for its university, magnificent cathedral and medieval treasures, and a somewhat bohemian vibe with its street musicians and pavement artists.
The Altstadt (Old City) is picturesque, featuring canals and dozens of historic buildings. A cable car carries passengers on scenic trips up the Schauinsland Mountain from the Stadtgarten to enjoy the view from the mountaintop restaurant. Visitors very much enjoy the local Black Forest cuisine on offer at Freiburg's restaurants, and the local wines produced in the region surrounding the city. The weather in Freiburg is renowned to be sunny and warm compared to other parts of Germany, and the city takes full advantage of this to host several festivals throughout the year, including a music festival in mid-June each year, followed by a wine festival at the end of June and a wine-tasting festival in mid-August.