Boatswain's Beach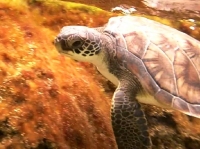 Cayman Turtle Farm, Grand Cayman © Lhb1239
Boatswain's Beach is Cayman's premier attraction. It features the famous Cayman Turtle Farm, an Education Centre, as well as a one of a kind marine park, with 23 acres of reef lagoon in which guests can snorkel. When Christopher Columbus first discovered the Cayman islands in 1503, he named them 'Las Tortugas,' meaning The Turtles. According to legend, there were so many turtles that the islands looked like they were covered with rocks. They are now a protected species and the Cayman Islands Turtle Farm is home to thousands of turtles ranging in size from six ounces (170g) to 575 pounds (261kg) each. The priority of the farm is to maintain an ideal breeding environment for the turtles. Breeding season runs from May to October, during which time the turtles dig their nests on the beach and produce their eggs. The eggs are immediately taken to the hatchery, where staff monitor the hatching process.
Guests at Boatswain's Beach can tour the Turtle Farm, and enjoy other attractions: Cayman Street, which showcases a bit of the Cayman Islands' culture and history; a nature trail with colourful flowers and butteflies; a free-flight bird aviary; Boatswain's Reef, with a viewing panel into the Predator Reef; the Breaker's Lagoon swimming pool; and up-close-and-personal animal encounters at the touch tanks. Boatswain's Beach also has gift shops and restaurants to shop and relax in.
Address: 825 Northwest Point Road, West Bay.
Website: www.turtle.ky