Keszthely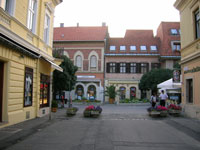 Keszthely town centre © Alensha
Keszthely is a pleasant university town that has a life of its own outside the tourist season. It has trendy cafes, tree lined streets and a busy market area with strings of peppers and garlic decorating the stalls beside old fashioned weighing scales. The modern history of Keszthely dates back over 760 years but the area of the town has been continuously inhabited ever since the Roman Empire. Its most important sight is the Festetics Palace, the residence of the wealthy Festetics family with over 100 rooms. The Helikon Palace Museum and Library are in one of its Baroque wings. If you're travelling in the area with kids then Varosi Strand is a great beach and amusement area to check out: it has water slides, a big pool and various play areas as well as nice lawns, a beach and loungers for parents to relax on. Keszthely likes to describe itself as the capital of Lake Balaton and it is the best town from which to explore the surrounding lakeside area, including the nearby Kis-Balaton nature reserve - excellent for bird watching - and the thermal lake at Hévíz.
Address: Western shore of Lake Balaton
Website: www.keszthely.hu/en/
Transport: Numerous trains run between Budapest and Keszthely. The M7 or the scenic E71 connect Budapest and Keszthely by road. The town is also connected to a number of Hungarian cities by bus.