Szentendre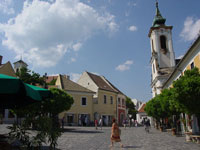 Szentendre main square © Stako
Szentendre, 'The Pearl of the Danube Bend', is a quaint old market town situated on the slopes of the Pilis range, with a charm and character of its own. Meandering cobbled lanes, little squares, red-tiled roofs, brightly painted houses, and awkwardly positioned Orthodox churches give it an artistically picturesque setting.
Serbian refugees inhabited the town in medieval times and their style contributed to the charisma of the town's haphazard structure and Balkan flavour. Numerous Serbian churches add to the collection of historical buildings. In the 1900s the town became a favourite retreat for painters and sculptors and ever since it has been known for its art and artists, resulting in a wealth of museums and art collections scattered among the tourist souvenir and handicraft shops.
Being close to Budapest, the town is a popular excursion or day-trip from the capital and has become one of the hotspots for tourism in the country; summer weekends can get rather overcrowded but this is good advertising for the village, if a little inconvenient.