Visegrad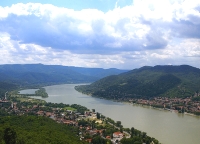 Visegrad © Bence Tvarusko
Superbly situated on the abrupt loop of the Danube beneath steep hills, Visegrad was once a Roman stronghold on the border of the Roman Empire and the second home after Buda to Hungary's royalty in the 14th and 15th centuries. The Citadel sits high on the hill above the town with commanding views over the river bend and the position was of strategic importance to the Romans. On the banks of the river are the ruins of the magnificent palace, one of the finest ever built in Hungary, which is now the open air King Matthias Museum.
Today the small, sparsely populated town has a pleasantly lethargic atmosphere that belies its past glory and importance and it makes a peaceful excursion from the crowds of the big city. As all of this intriguing history suggests though, the village is a delight for history buffs and retains an old-world feel which is very appealing. The village is also a good base for outdoor activities in the lovely surrounding countryside and there is an excursion centre behind the Castle Hill which can organise things like hiking, canopy trails and cycling in the region.
Transport: Boats run between Budapest and Visegrad from April to September. They depart from Vigadó tér in Pest between Erzsébet Bridge and Szabadság Bridge. The journey to Visegrad is 3.5 hours. There is no direct train service between Budapest and Visegrad. Take the train to Nagymaros from Nyugati Railway Station and from there catch a ferry across to Visegrad. The ferry dock is a few minutes walk from the train station.