Esztergom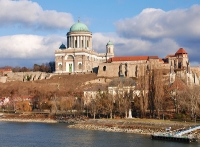 Esztergom Basilica © zolakoma
Esztergom combines captivating history with a small-town riverside charm. One of Hungary's most historically important towns, it was the capital for over 250 years and the birthplace of their beloved first king and saint, Stephen, who was crowned here in the 11th century.
Today it remains the religious centre of the country with Hungary's largest church dominating the hill above the town next to the ruins of the medieval Royal Palace, now the Castle Museum. The colossal basilica was the first cathedral in the country and the instrument for the introduction of Roman Catholicism to the nation. It offers wonderful views from its enormous dome and contains a crypt and priceless treasury collection.
Below is the pretty Watertown District with uneven cobbled streets winding up the hill towards the castle and several interesting museums. Esztergom is conveniently close to Budapest and makes a great excursion from the city but it has much to occupy tourists and many choose to spend a bit longer in the town. Esztergom faces Slovakia across the Danube and there is an international ferry crossing here.
Address: Esztergom along the Danube Bend
Website: www.esztergom.hu
Transport: About 25 trains depart to Esztergom daily from Budapest's Nyugati Railway Station (M3 metroline). The journey takes about 1,5 hours. Buses depart from Árpád Bridge Bus Station. The journey to Esztergom by bus takes about 75 minutes.